Malcesine had been a success! I was surprised by the success of the outward travel, and the wedding, the catalyst for this whole expedition was amazing!
When I was first invited to join the wedding party in Italy, I immediately started scheming and plotting the possibilities I could take advantage of while I was there. After all... when in Rome!
As I said in my previous blog, forgeign travel has never really appealed to me before, however, one of the few European cities that did attract me was Venice. Naturally, when I found out that we would be passing through there I knew I had to find a way to steal a few days for myself to go see the sights!
Fast forward to June and I'm back on the train to Venice. The heat bowls me over as I step off the air conditioned carriage. My challenge, and perhaps the part of the journey I was most apprehensive about was to navigate my way across Venice to find my Airbnb.
The 'bus boats' were such a foreign concept to me. So foreign that despite being on the right boat and only one stop from my destination, my bus veered off at the last minute, putting the island of Venice squarley behind us as we headed out to Murano - another island a mile or so from Venice. After panicking for 25 minutes with my eyes glued to the GPS on my phone expecting to accidentally find myself back in Venice airport, to my relief we turned back towards Venice and I disembarked as soon as possible.
Once settled into my room, I set off with the mission of finding St Mark's Square where I had planned to do most of my photography. Much to my dismay, as all the streets in Venice are so narrow with tall buildings on either side my GPS proved useless. I had to wander, cluelessly, following crowds until I found it.
By the time I was in position with my camera pointed toward San Giorgio Maggiore with the iconic gondolas bobbing around in front I could tell there wouldn't be much light. What I didn't bargain on was what happened next... The heavens opened, accompanied by bouts of thunder. I stood my ground, worried that as soon as the rain stopped I would lose my vantage point. I felt like a hardy Scot, already familiar with enduring torrential rain for a photo, but in truth it was warm and refreshing. That said, conditions kept getting worse with no sign of letting up. People were running across the square with umbrellas and I decided to take advantage of that and re-compose.
I took shelter with the rest of the city and framed up this shot of a lamp post and the church behind. Once I was happy it was simply a case of waiting for soggy strangers to pass by at the right time. Soaked through but satisfied I went home to dry off.
The following day was my only full day in the city. I started off back at St Mark's for sunrise. It was eerie to see the place so empty and quiet. Even more so than during the downpour the night before. The rest of the day I spent wandering through all the streets of Venice.
My aim was to follow my nose to the train station. From there I would hop on a boat and cruise down the Grand Canal (as I said, 'when in Rome'). We sailed under the Rialto bridge, the other spot I had set my sights on for a shoot. I scouted out a spot to shoot the bridge later that evening. The place was so crowded and each bank of the canal was either full of restaurants or taken up by the Rialto bus stop. I found one jetty which wasn't chained off that offered an unobstructed view.
Annoyingly, when I returned I found a couple occupying it. I had to make do with a different jetty which had been opened up, the bus stop was still a distraction but I was able to make use of the boats tied up along the water in my foreground. As the night got darker and lights began to warm up I moved up onto the bridge and caught the view down the canal. A classic Venetian sight.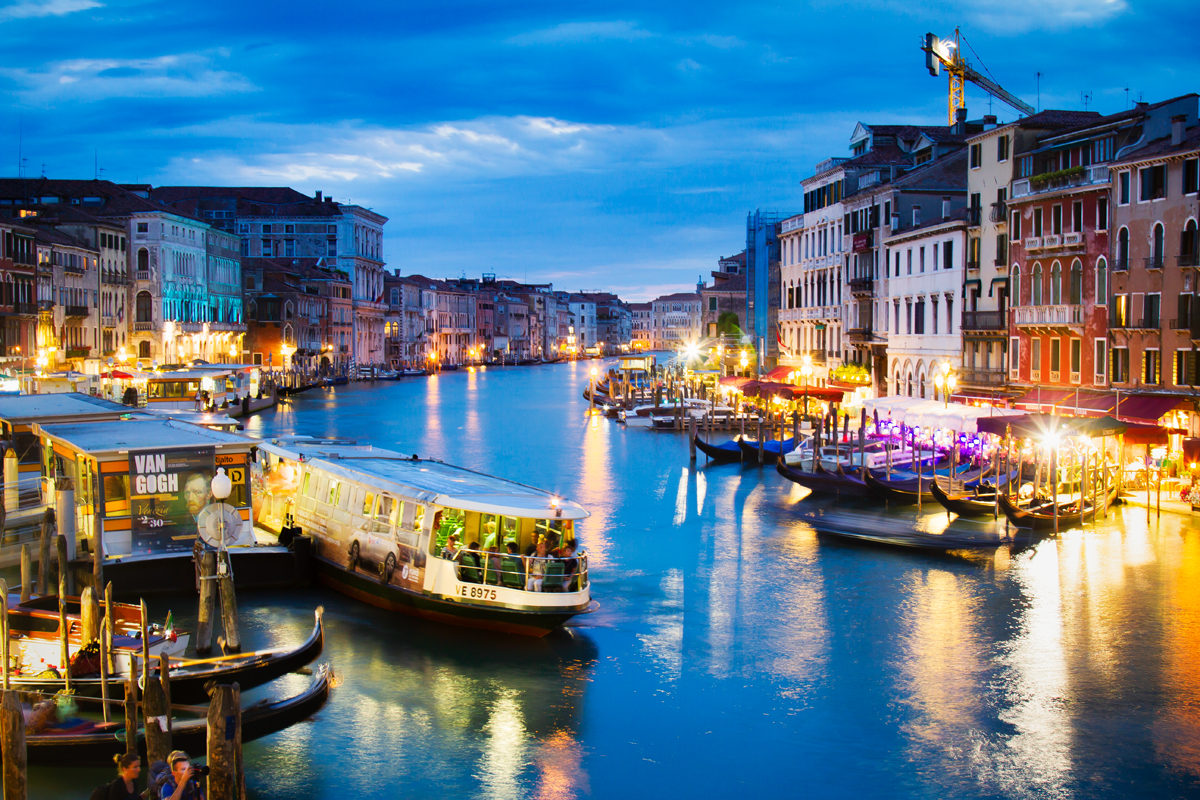 I decided to try one last time to get to my original location. This would be the last chance I have to take photos in Italy so I was willing to wait it out. The couple had left and the spot was finally free! I set up my camera one last time and finally got the shot I thought I was going to miss.
Now I'm back on Scottish soil, perparing for a trip north to the barrenness of Skye, writing this is forcing me to think back and reflect on my time on the continent. I wondered if the experience would have caused me to catch the 'travel bug' - not some horrible form of dysentery - but the passion for foreign travel. I hoped it would, there's a long list of incredible sites across the globe I would love to stand before one day and capture. But I found it a tough and lonely experience. I've found in the past that even on a short trip up the West coast of Scotland I can struggle to switch off and clear my mind if I'm left alone with only my thoughts. That said, the thrill of a new type of adventure, new culture and unfamiliar sights (along with Peter May's excellent Hebridies Trilogy) helped occupy my mind enough to enjoy it. I'd like to think that over time I'll tick a few more of my world destinations off my bucket list, but perhaps next time take a friend. Canada anyone?!
If you'd like to read about something a little closer to home, check out this blog: